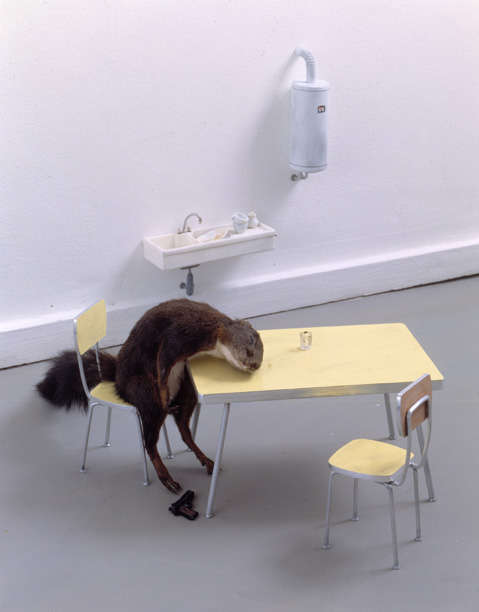 As one of the unavoidable realities of human existence, death is also one of the oldest and most common themes in the history of art. From Egyptian tomb paintings and battle scenes on Greek vases by anonymous artists, to depictions of the Crucifixion and Resurrection of Jesus by the great Renaissance masters, to contemporary encounters with these subjects by such artists as Damien Hirst and Andres Serrano, the contents of this book highlight three thousand years of the iconography of death and resurrection.... De Pascale explores depictions of these two subjects thematically, through chapters on violent death, ceremonial tributes to the departed, allegorical depictions of death, and the journey to the afterlife.



--

Death and Resurrection in Art: Guide to Imagery,

by Enrico De Pascale
I have just received what may well be my new favorite book:
Death and Resurrection in Art: Guide to Imagery,
by Enrico De Pascale.
Published by the J. Paul Getty Museum as a translation from an Italian original (which may explain why its so dang good!), the book is a lavishly illustrated and encyclopedic examination of artworks--ranging from ancient Egypt to the present--featuring themes of death and resurrection. The book is organized via a broadly imagined grouping of themes, such as (just a few of my favorites here) martyrdom, suicide, ex votos, "the black lady," "ars moriendi" (or "art of dying"), symbols of death, vanitas, plague, monument of the fallen, blood, Eros and Thanatos, "investigated body" (the anatomical body), the cult of the dead, relics and reliquaries, and tomb art.
The book features hundreds of amazing artworks beautifully reproduced--some old favorites, and some new revelations--augmented by fascinating, concise-yet-thorough documentation. Each topic is introduced by a page that outlines the theme by providing a definition, linking it to corresponding literature, and surveying its iconographic distribution. Each page is set up in a friendly, lots-of-white-space
DK Books
kind of layout with lots of commentary (see top image--click on image to enlarge) that invites close reading. I really cannot put it down, and have found much to be inspired by in the images and information I've found here. This is the book I always wished had existed when I was just discovering the richness of this topic as a teenager. I could not recommend this book more highly!
You can find out more about the book (which is now available at a pre-order discount!)
here
.
All images shown above are featured in the book. Top to bottom:
Self Portrait with Death,
Edvard Munch, page view from book;
The Body of the Dead Christ in the Tomb
, Hans Holbein;
Skeletons Fighting Over a Smoked Herring
, James Ensor (1891); Death and the Maiden, Egon SchieleSchiavonetti (1808); Bidibidobidiboo, Maurizio Cattelan (1996); The Triumph of Death, from the Heures de Rohan (c. 1418-25). (1915); The Soul Hovering over the Body Reluctantly Parting with Life, drawn by W. Blake and etched by L.