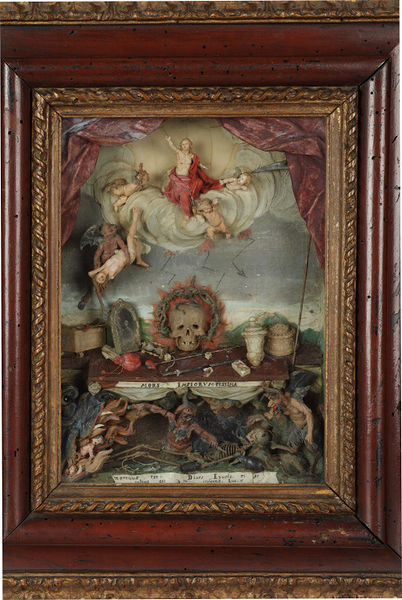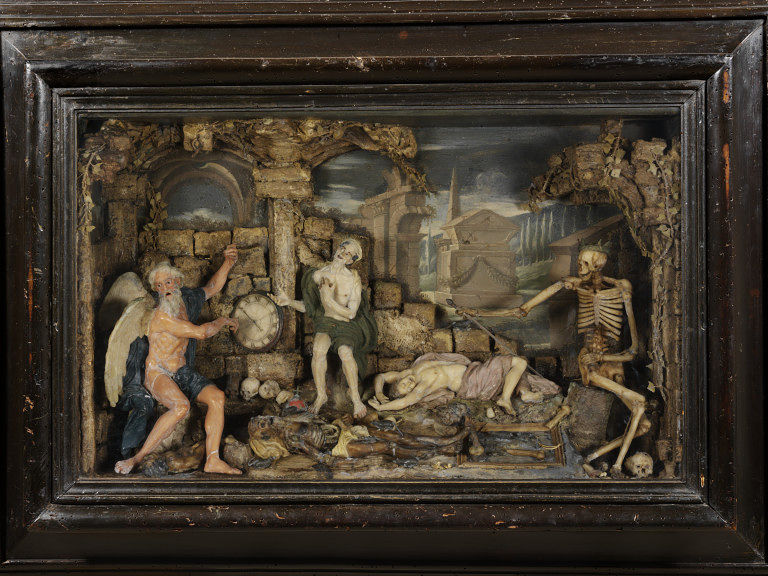 I have just made the happy discovery of the work of Caterina de Julianis (1695-1742), Neapolitan nun, master waxworker, and student of the Sicilian Abbot cum master waxworker Gaetano Giulio Zumbo (1656-1701). Zumbo was infamous in his time for his miniature allegorical waxworks depicting humans in the throes of death, disease, and decomposition; these artworks were found revolting by most, but beloved by a few, among them the Marquis de Sade. Zumbo is also famously known as the grandfather of the wax anatomical modeling tradition, as discussed in
this recent blog post
.
Julianis' work is so similar to that of her master--featuring waxwork miniatures, memento mori imagery and themes, and masterfully rendered macabre images of death and disease--that her work is often wrongly attributed to the better-known Zumbo; sometimes true ownership cannot be determined. Case in point: the top image is attributed on Victoria and Albert Museum website to
both
Julianis and Zumbo. The bottom image, from the same source, is entitled "Time and Death" and is attributed soley to Julianis, with a mention that it was, until recently, attributed to Zumbo. The full caption reads:
Time and Death, before 1727
Relief, Italy (probably Naples, made), Coloured and moulded wax
Purchased by the V&A under the bequest of Dr W.L. Hildburgh

The scene is set in a crumbling graveyard, with the winged figure of Father Time seated on the left pointing to a clock, while a half-draped emaciated figure of a smiling beggar, seated on the other side of the clock, solicits alms; a papal tiara lies at his feet. One small discoloured and decaying corpse lies in front of Time, while another corpse with entrails revealed lies beside him, surrounded by rats, snakes and skulls. A dead youth is stretched out on the right, while on the extreme right the crowned skeletal figure of Death holding a spear looks on. Ivy trails over the surrounding stonework; the sloping ground gives a sense of theatricality to the whole. The painted background depicts decaying funerary monuments.

This highly realistic and dramatic wax tableau was a memento mori, intended to inspire thoughts on mortality. Until recently it was attributed to the wax sculptor Gaetano Giulio Zumbo or Zummo (1656-1701), but it has now been convincingly reassigned to Caterina de Julianis. This artist was a Neapolitan nun who specialized in wax modelling. The piece was inspired by Zumbo's works, and the dead youth was in fact based on a figure of a dead bare-breasted woman in one of his wax compositions; because the present work was intended for a church this figure was transformed into a male subject. Coloured wax was the ideal medium for such morbidly realistic scenes, and the artist has been able to convey with astonishing illusionism the textures of stone, flesh and drapery. Wax figures could be formed from moulds, as well as modelled, and so copies and variations of compositions were easily made. A closely similar composition known to be by Caterina de Julianis is in the Chiesa dell'Immacolata in Catanzaro, previously in Bishop Emmanuel Spinelli's palace, and dating from before 1727.

It appears that one or both of these reliefs were featured in a recent exhibition at the V and A entitled "Baroque 1620-1800: Style in the Age of Magnificence." You can visit the online exhibition by clicking
here
; you can order a copy of the catalog (as I just did!) by clicking
here
. Both images from
the V and A website
; more on both objects
here
; click on images to see larger, finer image.
Addendum:
If the work of Zumbo is of interest, it has just come to my attention that one of Zumbo's recently restored artworks--described as "a gruesome scene showing a group of decomposing syphilis victims" (see below)
is on view for a limited time (until January 31st) at Florence's
Museo dell'Opificio
. For more on the piece and the exhibition, click
here
. And if these sorts of models hold some interest for you, you might also want to check out Daniel Neuberger's "Allegory on the Death of the Emperor Ferdinand" of 1657, which can be seen at the
Ecclesiastical Treasury in Vienna
and was featured in a recent MA post; click
here
to see it and find out more.