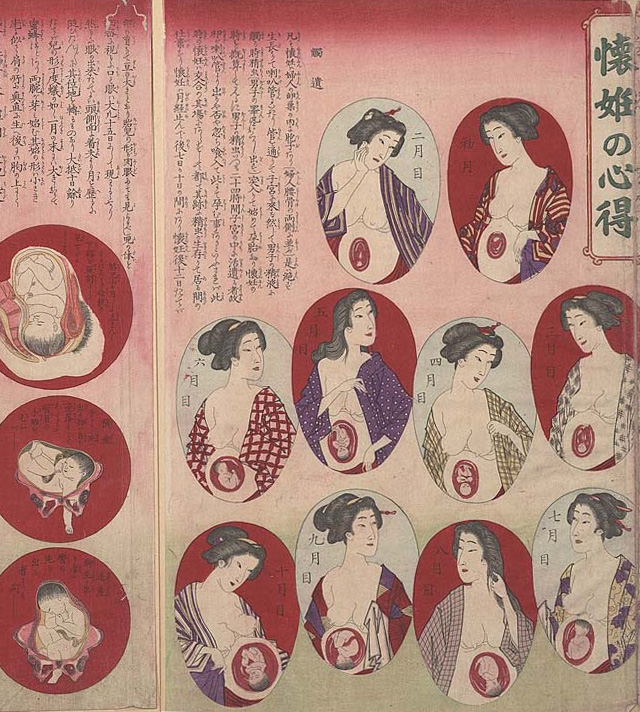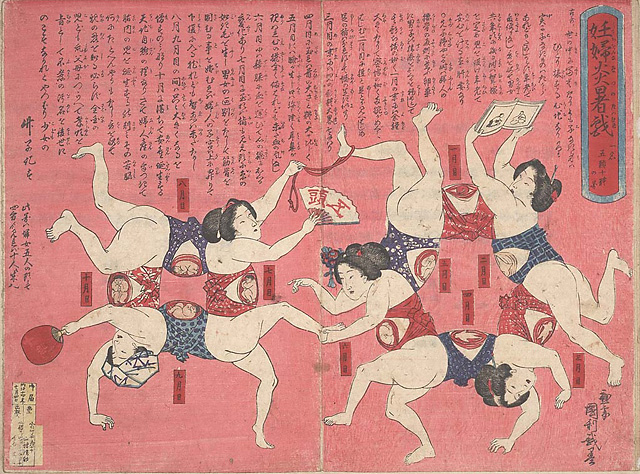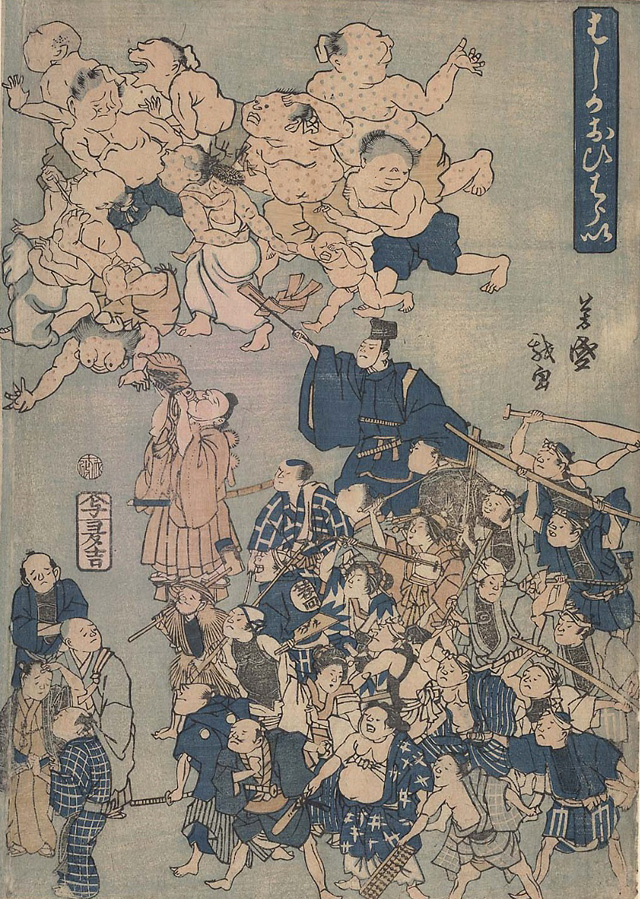 Just came across this really fantastic and unusual collection of 19th Century Japanese medical woodblock prints on the
Pink Tentacle website
, which sourced them from the extensive University of California San Francisco (UCSF) Japanese Woodblock Print Collection website.
As the UCSF website explains:
The UCSF Japanese Woodblock Print Collection consists of four hundred Japanese woodblock prints on health-related themes. Of those, more than half are colorfully illustrated in the ukiyo-e manner, the remainder being printed single-sheet texts. From the treatment and prevention of diseases like smallpox, measles, and cholera, to the stages of pregnancy and drug advertisements, these prints offer a unique window into traditional Japanese attitudes toward health and illness.

The majority of the prints date to the mid- to late nineteenth century, when Japan was opening to the West after almost two hundred and fifty years of self-imposed isolation. Thus, they provide valuable pictorial evidence for the effect of Western medical science on traditional beliefs and practices.

Five subject areas broadly define the collection. The treatment and prevention of three contagious diseases; smallpox, measles, and cholera; are topics for eighty of the prints. A related category includes prints in which Buddhist or Shinto deities intervene to ensure a cure. Pregnancy and women's health issues form a distinct theme, including several images of the stages of gestation. Because foreigners were thought to carry disease to Japan, the collection also includes several maps of Nagasaki, where the Dutch were confined during the Edo period, as well as prints depicting foreigners and their ships. Drug advertisements from the nineteenth century make up the largest category...

The woodblock prints in this collection offer a fascinating visual account of Japanese medical knowledge in the late Edo and Meiji periods. Collectively, they record a gradual shift, by the late nineteenth century, from the reliance on gods and charms for succor from disease, to the adoption of Western, scientific principles as the basis for medical knowledge. They show the introduction of imported drugs and vaccines and increased use of printed advertisements to promote new medicinal products.
You can view the entire collection on the UCSF website--arranged by the themes Contagious Disease, Drug Advertisements, Foreigners & Disease, Religion & Health and Women's Health--by clicking
here
.
I HIGHLY recommend clicking on each image to view larger, richer, and more detailed image.
Image captions top to bottom:
Shinto god from Izumo province for preventing measles -- Taiso Yoshitoshi, 1862
Pregnancy guide -- Hamano Teisuke, 1880
Illustrated guide to parental obligations -- Utagawa Yoshitora, 1880
Pregnant women playing in summer heat (5 heads, 10 bodies) -- Utagawa Kunitoshi, 1881
Chasing measles away -- Utagawa Yoshimori, 1862
From
Pink Tentacle
via
Ellettrogenica
.